Sheikh Khaled bin Mohamed bin Zayed Al Nahyan, the newly appointed Crown Prince of Abu Dhabi, is known for his passion for sports and his leadership in national projects that will shape the future of the UAE.
As the Chairman of the Abu Dhabi Executive Office and a Member of the Abu Dhabi Executive Council, Sheikh Khaled has spearheaded several impactful initiatives.
One of these initiatives is the National Genome Strategy, which was launched earlier this year. Sheikh Khaled, as the Chairman of the Emirates Genomics Council, attended the launch along with the UAE President and the Vice-President and Prime Minister of the UAE.
The strategy aims to provide a comprehensive framework of legislation and governance to support the development and implementation of genomic programs that will enhance public health and wellbeing in the country.
The Emirates Genome Council, established in 2021, has made significant progress in establishing a foundation for regulatory, research, technological, and medical institutions to connect, collaborate and develop qualitative medical applications and services.
Sheikh Khaled has also been a driving force in upskilling Emirati youth. He launched a new government-led career-building program that provides additional skills and training opportunities to school and university graduates, job seekers, and those seeking career advancement.
The program offers access to apprenticeships, internships, specialist and practical training opportunities, and job-matching support across the public and private sector. This initiative builds on existing upskilling initiatives that have matched more than 4,000 Emiratis to full-time jobs in 2021.
A keen sports enthusiast, Sheikh Khaled has been a strong supporter of UAE's Jiu Jitsu program and has overseen the signing of a 10-year agreement between Abu Dhabi Motorsports Management and Formula One Group to continue hosting the F1 season finale at Yas Marina Circuit in Abu Dhabi. He has also launched the Bike Abu Dhabi platform, which aims to make Abu Dhabi a leading global cycling hub.
Under this platform, significant infrastructure enhancements are planned, including an extension of the emirate's 300km cycling network to over 1,000km, the construction of Velodrome Hudayriyat, a 3,500sqm capacity arena for track racing, and the 109km Abu Dhabi Loop – a segregated cycle way linking key destinations across the city.
The first edition of the Bike Abu Dhabi Festival was held under the patronage of Sheikh Khaled and brought 300 of the world's top urban cyclists to the city.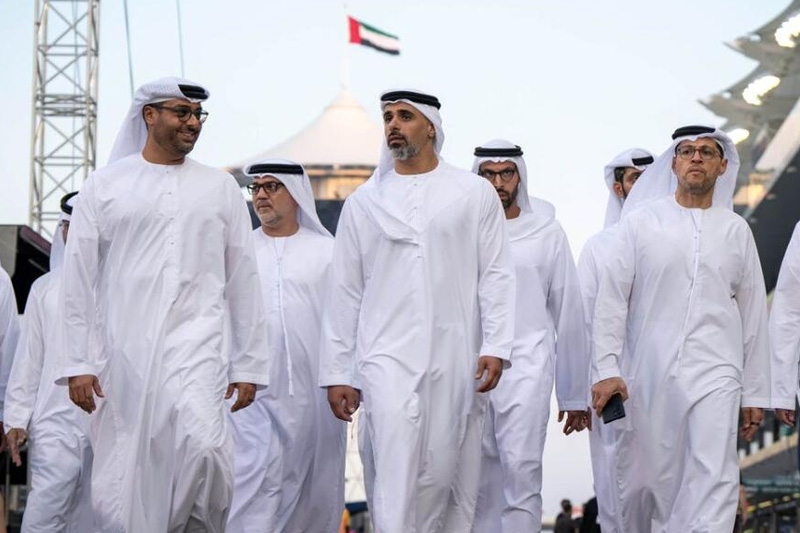 Sheikh Khaled bin Mohamed bin Zayed Al Nahyan is a visionary leader who has been instrumental in several national projects that will shape the future of the UAE.
His passion for sports and his commitment to upskilling Emirati youth have made a significant impact on the country's development. As the new Crown Prince of Abu Dhabi, Sheikh Khaled's leadership will undoubtedly continue to drive the UAE's progress and development.
Summary of article by: Staff Reporter, Khaleej Times